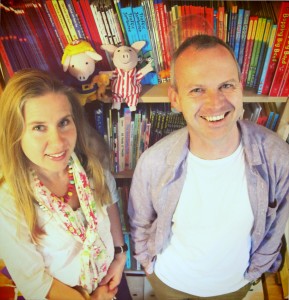 Christyan Fox is a freelance writer and illustrator living in Thames Ditton, UK. He has created more than 50 international-selling children's books and stories for BBC TV (both with and without his wife Diane) as well as packaging design, graphics, magazines, advertising and running various courses and workshops on creating children's books.
Diane Fox was a senior graphic designer with London design consultants Minale Tattersfield for twelve years. She now works with Christyan in creating children's books and running book creation courses.
Diane and Christyan are also the parents of three children – one of whom is severely disabled.
As The Boy Who Bit The Horse obviously has much better things to do with his time he allows Christyan to type the words for this blog on his behalf. Of course, The Boy regards all of this content as complete 'fiction', though that wasn't the word he used.
Christyan would also like to acknowledge that without Diane's infallible memory there would be no content… and it might well be called: The Boy Who Bit Something Or Other At Sometime In The Past.