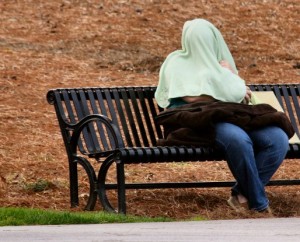 Obviously there's absolutely no need to explain the Blankey Game to any of you, because I'm sure you all have your own subtle variations on it.
What do you mean you've never heard of the Blankey Game? How can that be? The absolute, no question, bestest and most popular game in the world and you say you've never played it? You sad, sad, people.
I've seen you all out there kicking a ball around a field and I've thought, "What's the point of that?" You kick the ball away, then you run after it, then you kick it away again. And then you give it to someone else and it's their turn to kick it away. Makes no sense at all.
There's another one where someone tries to throw you a smaller ball and you have to whack it away with a big stick. I really can't see the point of any of these games… if you don't want the ball why bother with it in the first place?
Well I simply can't let you all go on with such empty lives so allow me to explain. First, find a decent-sized blanket. My favourite is a mustardy-yellow jobbie with a kind of squared texture all over it. It's perfect because it's not too thick or fluffy (things can get pretty heated during the Blankey Game) and you can almost-but-not-quite see through it.
So what you do is this: search round the house for the blanket and drag it along behind you (sometimes along with whatever relative or stubborn cat happens to be sitting on it). You then have to go and search for Smiley. Now obviously this bit isn't going to be very practical as it would take him a long time to get around to playing with everyone in the world. You can play the game with other people at a pinch but if you can persuade Smiley to play you'll be in for a treat because he's the undefeated world champion.
When you've found him all you do is hand him the blanket and he'll do the rest. He usually starts by making a kind of groaning noise or mutters something about being busy but don't believe a word of it, it's all part of the game – you just keep handing him the blanket until he accepts it. He usually weakens quite quickly but don't give up if it takes a little longer. I don't think I've ever had to persevere for more than an hour or so.
As soon as he accepts it what you have to do is run away as fast as possible. This is hilarious. Don't ask me why, it just is.
He then has to put the blanket over his head and chase after you, making "Oooooooh!" noises as he goes. Ok, so you run up and down the hall a few times, stepping on whatever person or animal is silly enough to be in the way and he staggers around after you, bumping into walls and door frames. By this time he's usually managed to grab me a couple of times as I've been dashing past. He squeezes me in a bear hug and, with the blanket still over his head, presses his face up against mine and makes creepy ghosty noises. But, fun though this is, it's just the initial warm-up period. Now it's time to take things up a gear.
At this point Smiley attempts to throw the blanket over my head. This is the really weird part because when it's over his head I can see him perfectly well, but when it's over my head I become COMPLETELY INVISIBLE! How cool is that? I wander about the house following all the vague shadowy shapes and all I can hear them saying is "Where's he gone?" I can't see him anywhere!"
I quickly pull the blanket off my head to reveal myself and they look absolutely shocked! And just as quickly I put it back over my head and they're back to being completely baffled… honestly, I can't believe they haven't figured this out yet, especially because at this point I'm usually laughing so hard I'm worried that I'm going to burst something.
Now this would already be enough to make it the best game ever invented, but wait, there's more. The final stage involves Smiley dropping to his knees, still with the blanket over his head, and chasing around the floor like a dog in search of my toes. I can run but I can't hide. I try lifting my feet off the floor as far as possible when I'm running away which possibly makes me lose some of my usual cool composure (I know you'll find that difficult to believe) but at this point I'm usually past caring. I'm still working on a technique where I reckon it's possible to have both feet off the floor at the same time while I'm running but I haven't quite mastered it yet. Sometimes Smiley scurries off back to the living room and goes quiet and still for ages, so I have to sneak back to check if he's still alive but at this point he comes back to life and starts chasing me again. Gets me every time.
After a few minutes of this I'm so exhausted that I have to confiscate the blanket from Smiley and go and flop on the sofa for half-an-hour or so to recover. And to stop him bothering me any more I usually put the blanket over my head to make myself invisible so that he won't find me.
If you've never played the Blankey Game before then find a partner and do it today. I promise you it's the most fun you'll ever have.
Honestly, I could wet myself.
And frequently do.